There was a little boy and he had a lamb. He loved that lamb very much. One day he took that lamb and went out. While he was on the way on the road he saw a rail track. The track was broken and there was a train approaching from the front. He thought that if the train goes on the broken track then it would lead to a tragedy. He began thinking as to what he should do to ensure that the train stops. Then he had an idea of waving a red cloth. On seeing the red cloth, the train would stop but he did not have the red cloth with him. He did not know what to do. Then suddenly he got another idea. He thought of killing the lamb and colouring the cloth red through the blood stains of the lamb. He loved that lamb dearly but he wanted to save the lives of the people in the train. Therefore, even though he didn't want to yet he killed the lamb that was so dear to him so that he could show the red cloth and stop the train. When the train arrived, on seeing the red cloth it stopped. The people in the train on seeing what had happened and how their lives had been saved began to cry. The child also began to cry and felt the pain of having lost the lamb that he loved so dearly.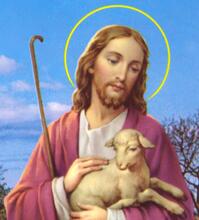 Dear Friends, Through this story we want to tell you that God gave his only begotten son so that we can believe in Him. God loved his son a lot  but He sacrificied His only begotten son for our sake so that anyone who believes in Him will not perish but have eternal life.
May God bless you abundantly.