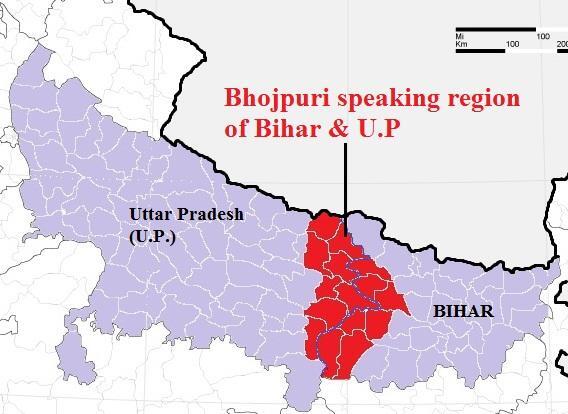 Dear friends in Christ Jesus, This is the best website to find more details about the bhojpuri people group and their language. The Bhojpur region is an area(northern part of India and west-central part of Nepal)where Bhojpuri is spoken as a mother tongue. Northern Bhojpuri is common in the areas of Deoria, Gorakhpur and Basti in Uttar Pradesh, North Bihar and Nepal. Southern Standard Bhojpuri is prevalent the areas of Bhojpur, Rohtas, Saran, Bhabua, Buxar, Siwan,  Gopalganj  in  Bihar , and Ballia and eastern Ghazipur in  Uttar Pradesh Western Bhojpuri is prevalent the areas of Varanasi, Azamgarh, Ghazipur and Mirzapur in  Uttar Pradesh . You can find out more about the Bhojpuri culture, customs and language form this site. Do enjoy the beautiful pictures and videos of Bhojpuri people .Through this website you can also find out more about various developmental works taking place among the Bhojpuri people group. This website would also offer other links to useful resources that would help you know more about Bhojpur region and the people in there. Our site is available in Bhojpuri, Hindi, and English languages so that it would be easier for you to browse our site and find your favourite contents. We regularly upload and update videos, music, pictures and scripture materials on our site. Feel free to download and enjoy them from our site. We appreciate your valuable comments and feedbacks.
It is our endeavour to to bring the gospel to you in your heart language so that you can worship the living God freely in your own cultural context. 
We hope that you will enjoy browsing through our website and will find resources that will help you in your walk with Christ. We look forward to your feedback. Please feel free to let us know how we can improve our website to make it more meaningful and relevant for you. 
Thank You,
Please remember us in your prayers.
May God bless you a lot.